Welcome to Julian Hausner who begins his Masters degree in the IAE working on automation of high-throughput genotyping. His is a 'Co-Op' masters degree with industry partner Diversity Arrays Technology where he will be based. Julian plans to bring his existing expertise in laboratory chemistry and chemical safety procedures and experience and knowledge of laboratory automation to bear on new applications for automation of the laboratory workflow for UC associate, Diversity Arrays Technology Pty Ltd.
Recent advances in genomic testing have not only considerably expanded the range of possible analytical applications with potential to foster improvements -- in seed production, quality control of harvest products or biosecurity, for example -- but also have significantly increased customer demand, thus creating the need for highly increased throughput capacity in affiliated genomic testing laboratories.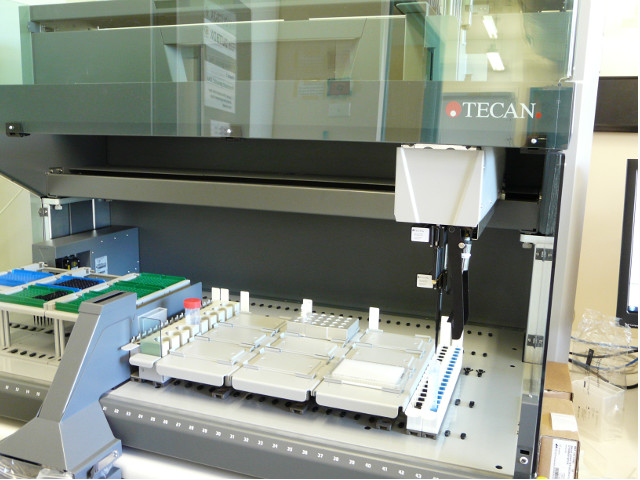 Process automation is key to facilitate routine processes including, but not limited to, precise aliquoting of small volumina of reagents for high-throughput sample testing, sample QC and the different steps of sample testing procedures in a highly efficient and reproducible manner. Client-focused testing laboratories need to continue to meet customers' specific needs when transitioning to automation protocols that involve new laboratory equipment and operations without risking carry-over of contaminants between assays.
The proposed research has the following aims:
To review and optimise existing protocols and customised software for existing laboratory equipment;
To develop novel automation protocols that increase the range of tasks that can be performed using existing laboratory equipment and that will facilitate the transition from labour-intensive manual steps of the workflow to full automation;
To develop customised automation protocols to integrate new laboratory equipment (such as the TECAN Freedom EVO® platform) into the established workflow to increase productivity;
To write the necessary scripts for the robots and connect the robots to the database and LIMS application of Diversity Arrays Technology Pty Ltd;
To develop Standard Operations Procedures (SOPs) to ensure streamlined process execution by other staff;
To formulate set of recommendations for additional robotics if any impediments for complete automation are encountered with several robots available at Diversity Arrays Technology Pty Ltd at the moment
To review the current options on the market for machines with the functionality required for applications which cannot be executed on equipment currently held by Diversity Arrays Technology Pty Ltd.
This said, the focus of Julian's thesis will be on the research necessary to increase efficiency of DNA extraction, assay mix preparation and genotyping assays.