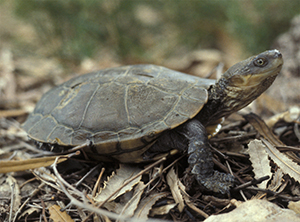 Today, a team of international scientists from the USA, France, Australia and Germany published the ninth edition of the Turtles of the World. The publication not only contains detailed descriptions of all 357 turtle species, but also information on the endangerment status of all species and a comparison of their present and original ranges.
"We provide a compilation of all 357 scientifically recognized and still living turtle species in the world", explains co-author Prof. Dr Uwe Fritz from the Senckenberg Natural History Collections in Dresden "But that's not all: In the new edition, we also examine the endangerment status of turtles and compare their original habitats with today's distribution. In this way, we offer national and international legislation and nature and species protection a solid basis for action."
Australian turtles feature promiently among those that are threatened, including species that make the list of top 25 turtles on the brink of extinction. The checklist also seeks to clarify the taxonomy of turtles, confounded by new-found resolution of molecular approaches to uncovering distinctiveness at finer and finer scales. The distinction between diagnosable lineages that are species and diagnosable lineages that represent variation with species is often a tough call.
There has also been a proliferation of new names poorly supported by the science (published outside the scientific literature) necessary to demonstrate the names apply to actual species, which has contributed to a very confused taxonomy for Australian turtles.
These difficult challenges have been met in the compendium, sometimes with the need to include qualification of the decisions made. So the classification presented is not always definitive, but the underlying evidence and argument is presented where the recommendaton is qualified to allow the user of this checklist to come to their own decisions.
It is an excellent document, timely in the context of the challenges turtles face in a modern world increasingly dominated by humans, and a testimony to energy and efforts of the team, and especially that of the lead author Anders Rhodin.
The document is illustrated with excellent distributional maps and photographs. It is free to download.
Enjoy.
Rhodin, A.G.J., Iverson, J.B., Bour, R., Fritz, U, Georges, A, Shaffer, H.B. and van Dijk, P.P [Turtle Taxonomy Working Group]. 2021. Turtles of the World: Annotated Checklist and Atlas of Taxonomy, Synonymy, Distribution, and Conservation Status (9th Edition). Chelonian Conservation Monographs 8:1-472.