Congratulations to IAE Masters student Yolarnie Amepou on being named United Nations 2017 Youth Champion for the Sustainable Development Goals in PNG. The presentation was made at the commemoration of the 72nd anniversary of the United Nations, in Port Moresby, PNG.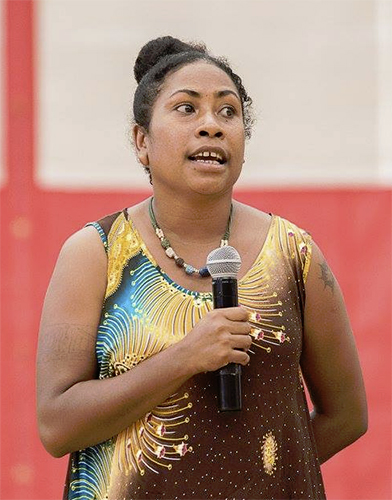 The Awards Ceremony featured five outstanding young leaders who are contributing to the attainment of the Goals in their communities. The 2017 Champions were Mr Josek Wesley (Jiwaka); Ms Yanamlyn Yana (Gulf); Mr Emos James (Eastern Highlands); Mr Lazarus Towa (NCD) and Ms Yolarnie Amepou (Gulf). This year, the Champions were chosen based on their specific self-initiative projects in the five key elements of the Sustainable Development Goals: People, Prosperity, Planet, Peace and Partnerships.
"To achieve the ambitious set of 17 Goals, we can only do better by collectively working with communities and the people of Papua New Guinea and by forging stronger relationships with the Government, as well as with other development actors such as the civil society, private sector, academia, and development partners. Most importantly we need to invest in young people. Youth have a very special role in advocating for the Goals as they are the future of this nation. Today's events showcase our commitment of working with and for the people of Papua New Guinea, while recognizing the importance of engaging with the youth as nation-builders," commented Roy Trivedy, the UN Resident Coordinator in Papua New Guinea.
It is so great to again see women recognised in Science with such a prestigous award.
This award follows on from one last year, where Yolarne was given the Pride of PNG Award for Women (Environment Division). She is building invaluable capacity and experience in working with different cultures, so important in PNG. To give substance to this, Yolarnie is to be the founding General Manager of a new NGO in PNG, the Piku Biodiversity Network, which will bring together researchers and consultants for a concerted assault on the knowledge gaps impeding effective conservation action in PNG. More on this later.
If you want to learn more about Yolarnie's work, go to the project web page or the facebook page dedicated to Saving Piku.
Go Lani.